Valentines Rice Crispy Hearts 💕
These cakes make the perfect pressie for loved ones of all ages, and it's a great recipe to get the kids involved with too! Super simple to make and lots of fun to decorate, why not give these a go this Valentine's Day!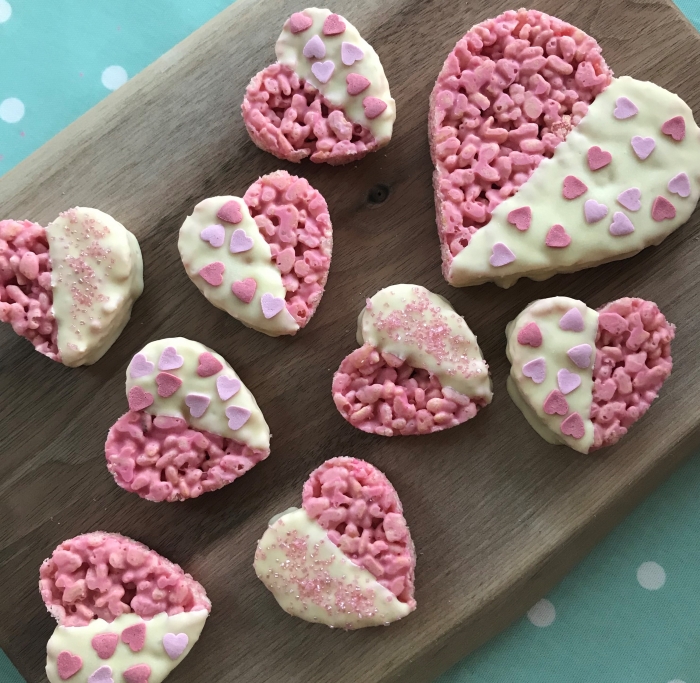 Ingredients:
150g rice crispies
200g white chocolate
100g mini marshmallows
100g unsalted butter
Pink food colouring/gel
Sprinkles to decorate
Method:
Line and grease a tin (approximately 35cm x 25cm) with greaseproof paper.
Melt the butter, marshmallows and 100g of the white chocolate over a low heat until fully combined.
When almost melted, stir in the food colouring.
Take off the heat and add the rice crispies, stirring to coat all of them in the marshmallow mixture.
Tip: Try to do this as quickly as possible, as the mixture will cool and become very sticky and harder to stir.
5. Empty the mixture onto the greased tin and press down with your hands so it's about 2.5cm in thickness (the thickness is totally up to you, but if you're planning to cut them out with cutters, it ideally needs to be thinner than the cutter). It also doesn't matter if it's square as you'll be cutting out heart shapes 💕
Tip: Adding a little oil/butter to your hands will help avoid the mixture sticking to you when pressing it down
Leave it for around an hour or so, until it's set and hard enough to cut and still maintain its shape.
Cut out your hearts – it may help to slightly grease the cutter so it doesn't stick.
Have some fun decorating!