What are the Best Tools for Cleaning Your Oven?
Cleaning the oven can seem like a daunting task. The cleaning process can become stressful if you are not using the right cleaning tools. But, with the right tools, cleaning the oven can be effortless. Although cleaning the oven is an exhausting job for most homeowners, regularly cleaning the oven can improve the quality of the food you cook and even reduce the risk of fire. Here are our top reasons to keep your oven clean.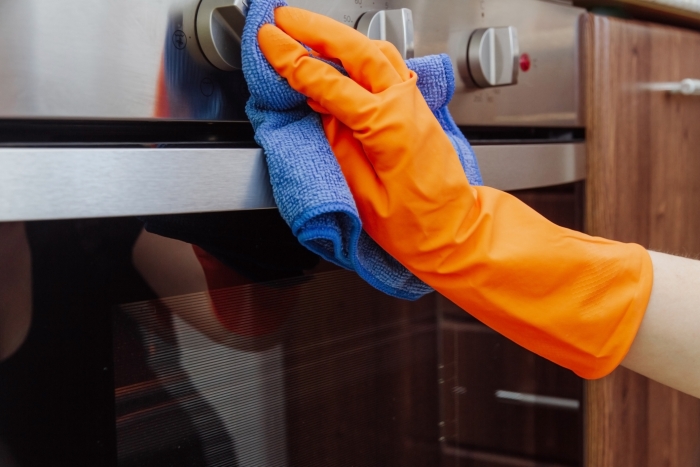 Now you understand why we should regularly deep clean the oven, we have put together a list of the best tools for cleaning the oven, from microfibre cloths to toothbrushes (just make sure it's an old one!).
Rubber Cleaning Gloves
One of the best tools to help you clean your oven is a pair of thick rubber gloves. Wearing rubber gloves will protect your hands when cleaning, so it is much easier to scrub the grime away. Also, if you are using an oven cleaning product, it is essential that you wear gloves, as most high street products contain harmful toxic chemicals.
Best Tools for Cleaning Oven Racks
Sealable bags
Oven racks are notoriously hard to clean as grime builds between each wire. However, there is a solution to save hours of scrubbing – large sealable bags. Simply place the racks in the bags with an oven cleaner of choice or natural cleaning solution and leave it to soak while you tackle the oven.
Self-Cleaning Feature for Oven Racks
Some ovens have a self-cleaning feature; however, it is not recommended that you use the self-cleaning option on racks. A self-cleaning oven works by raising the oven to extreme temperatures and the extreme heat in the cycle can destroy the rack's chrome finish.
Tools for Cleaning Oven Glass Door
Knowing how to safely clean the glass oven door is an important part of cleaning the cooker. Grime, debris and grease can quickly build upon the glass, so eventually, you can't see through it anymore. If you cannot see through the glass, you are tempted to open the oven door which can affect the oven's efficiency. Here are our top tips for cleaning the glass without scratching it.
Microfibre cloths
Tip: Avoid using harsh scouring pads such as wire wool, which may scratch and weaken the glass. Instead, choose a soft microfibre cloth with a natural cleaning solution such as baking soda. Microfibre cloths are lint-free and non-abrasive, so you don't need to worry about scratching the glass. Leave the product to work its magic and then wipe away with the microfibre cloth and repeat as necessary. Plus, these cloths can be used repeatedly, simply pop them in the washing machine on high heat setting to kill any germs, dry and use again.
Specialist Oven Cleaning Blade or Scraper
The oven blade is a professional cleaning method used to remove burnt-on grease and grime. These scrapers and blades can be purchased online for DIY oven cleaning. However, these tools are best used by a professional to avoid scratching the surface of the oven or damaging the glass door.
Old Toothbrush
An old toothbrush can be really useful to clean all the hard-to-reach corners of your oven. Dip an old toothbrush in your cleaning solution of choice and scrub away, you will be amazed by the results.
Professional Oven Cleaning Service
To save yourself the hassle and mess of finding and using the right tools for the job, you could always call in a professional cleaning service, like Ovenclean. Professional oven cleaners have specialist tools to get your oven sparkling clean in a matter of hours, saving you time and stress. Plus, all Ovenclean specialists use a unique no-added caustic system, which means there are no harsh chemicals, making it safe for use around children and pets.
Keeping the Oven Clean
To keep your oven cleaner for longer, wipe it down between each use to remove any grease and food debris.
Keep a spare tray or buy oven liners to collect any spilled food on the bottom of the oven. Clean the liner or oven tray between uses.