What is the best Industrial Oven Cleaner?
If you are in desperate need of an oven clean, you may have considered cleaning it yourself with an industrial oven cleaner. But which one do you choose, what are the most professional oven cleaning products out there? There are so many industrial oven cleaners on the market.
We have put together a review of 3 industrial oven cleaning products, detailing the pros and cons, which should help you decide on the right product to clean your oven with.
This blog is not intended to give oven cleaning instructions. Always follow product safety and oven manufacturer instructions.
Avalanche – Industrial Oven Cleaner – £15.54 for 5 litres
Avalanche is a powerful gel oven cleaner which can be used on commercial and domestic ovens. The Avalanche cleaner can also be used to clean a range of kitchen appliances such as BBQs, Grills and Deep Fat Fryers etc. This industrial oven cleaner contains a powerful blend of agents, which give this product the ability to remove even the most baked-on grease and food stains.
Pros:
Fume-free
Powerful cleaning
Easy application – simply apply and then rinse off after desired time
No offensive smells or polluting odours
Easily removed with clean water
Relatively cost-effective as 5 litres could do 20 cleans if the oven isn't heavily soiled
Cons:
Avalanche cannot be left on aluminium or stainless-steel surfaces for more than a few minutes to avoid marking
Gladiator – Heavy Duty Oven Cleaners – £70.65 for 12 x 1Ltr
Gladiator is an industrial heavy-duty oven cleaner that can be used for domestic and commercial kitchens. This industrial oven cleaner can also be used as a food plant cleaner and is constructed from an advanced gel formula. The Gladiator oven cleaner has been designed to produce fast results, to save you time, with a low odour and is non-tainting. This industrial oven cleaner is made from a blend of unique surfactants, emulsifiers and chelating agents, so the cleaner is powerful on grime and grease but safe to use at home.
Pros:
Fully biodegradable and phosphate free
Powerful oven cleaner
 Cons:
Cannot be used on aluminium, zinc or other alkali sensitive materials
Relatively expensive as seems to only be available in bulk buy
Dirtbusters Bio Oven Cleaner – £10.95 for 750ml
Dirtbusters Bio Oven Cleaner has been developed for professional oven cleaners in mind. Bio oven cleaner is a safe and effective way to clean domestic ovens. This industrial oven cleaner can be used on oven racks, grill pans, back plates, and fans, door glass. The Dirtbuster Bio oven cleaner works by using a carbon and grease digesting microbial treatment to break down deposits instead of harmful caustic chemicals.
Pros:
Dirtbusters Bio oven cleaner is a non-caustic solution, which cleans the oven without fumes or odours
Eco friendly formula
Safe for use
Safe for use on enamel and heating elements
 Cons:
Some reviewers have stated that it isn't powerful enough
Hopefully this review of industrial oven cleaning products has narrowed down your search for finding a product to clean your own oven. However, a common negative with industrial oven cleaners is the amount of harsh chemicals the products contain. We advise always following the manufacturers guidelines and instructions when using an industrial oven cleaner, ensuring you take all precautions necessary.
How to prevent oven cleaner poisoning?
Always follow the product instructions to the letter, even if you have used the product before.
Wear protective gloves and a mask if required.
Keep industrial oven cleaning products out of reach of children and pets.
What to do in case of oven cleaner poisoning?
If an industrial oven cleaner comes in contact with your skin or eyes, follow the instructions on the container as to how to deal with it. We would always advise getting checked by a medical professional if you have come into contact with any caustic cleaning products as these can cause major damage if not dealt with properly.
Professional Oven Cleaning Service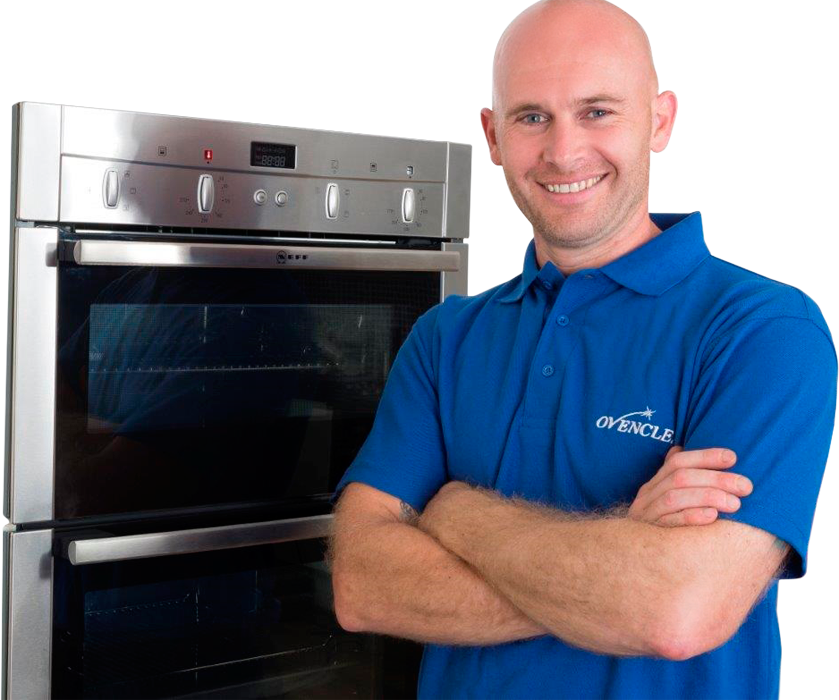 With this in mind, why not call your local Ovenclean specialist for a free oven cleaning quote to eliminate the risk that comes with using industrial oven cleaners.
Ovenclean specialists use professional oven cleaning products including no-added caustic cleaning products, meaning they are safe for use around children, pets and are fume-free.
The Ovenclean system and products ensure that you can benefit from a safe working environment and a fume-free home. All cleaned ovens and kitchen appliances are completely safe to use just as soon as we've finished – no mess, no fuss, no bother!