At this time of year, we're all trying to get beach body ready so we can feel proud strutting around the pool this summer – but what's the right way to get fit and lose weight? We keep hearing about the latest celebrity diet fads and it's hard to keep up with the ins and outs of each one.
We've taken a look at some of the diets the stars trying at the moment…
Beyonce – The 22 Days Vegan diet
You may remember that Beyonce hit the headlines last year for taking part in this diet, where you go completely vegan for 22 days. The results were incredible and despite the fact Beyonce isn't vegan anymore, she's still mainly only eating vegetables and fish since doing the diet. Of course Beyonce famously brought the 'Maple Syrup Diet' to the mainstream – a diet where you consume nothing other than syrup, lemon juice, cayenne pepper and water for 10 days!
Gary Barlow – The Paleo Diet
A high protein and no carb diet with an emphasis on fruit and veg – think 'caveman', what would they have eaten?! It doesn't require you to count the calories, just to stick to the relevant food groups and stay away from processed foods, a great shout if you're a big meat eater. Gary Barlow and Megan Fox swear by it!
Victoria Beckham – The Alkaline Diet
The aim of the Alkaline Diet is to keep the body's pH balance between 7.35 and 7.45, done through eating 80% alkaline foods and then 20% acidic foods. It's not just about what you're eating but also about how you're preparing food too. Foods such as fresh fruit, vegetables and nuts are the main components and unfortunately favourites such as pasta, meat and coffee are all out. It's thought to boost your memory and energy levels along with improving insomnia, bloating and headaches – on top of helping you lose weight.
Katy Perry – The M-plan Diet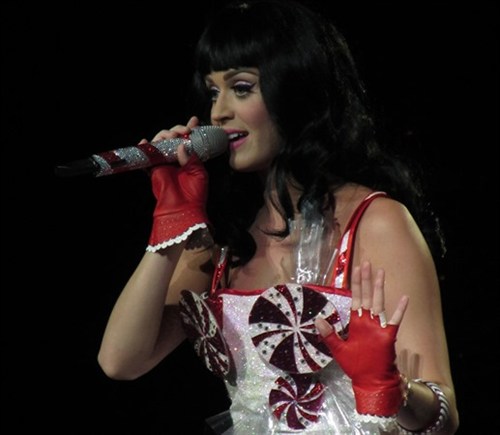 This very simple diet works by packing all your meals full of mushrooms for 14 days! Mushrooms are full of flavour, as well as vitamins and minerals with few calories so they make the perfect replacement for more stodgy foods, however the rewards of this diet are highly debated. The diet reportedly works by helping you to lose weight on your stomach, thighs and upper arms, whilst keeping your 'womanly curves' – a diet better suited to the ladies we think!
Eva Mendes – The Five Factor Diet
The Five Factor diet has many celebrity followers and very simple principles; five daily meals made from five ingredients with all of the key areas you need – protein, carbohydrates, fibre and unsaturated fats. It even allows for a cheat day and requires you to exercise five days a week for the best results. Its sensible approach to dieting has earned it commendation and an army of celebrity followers.
Jennifer Aniston – The Zone Diet
By monitoring the ratio of carbohydrates, fats and proteins you intake, the Zone Diet is supposed to be a healthy way of eating the right foods for your body. The diet prides itself on great results in a short amount of time, but also can be adapted for the long term to keep weight off. Jennifer is reported to have lost 9 pounds on this diet!
We're sure you're as baffled as we are at which diet to pick – if any! It's important to find a diet that's right for you and always consult a physician before starting to ensure what you're doing is safe.
Image Credits;
Beyonce - "Beyoncé e Jay-Z" by idrewuk - originally posted to Flickr as Hello hubbie!. Licensed under CC BY 2.0 via Wikimedia Commons - https://commons.wikimedia.org/wiki/File:Beyonc%C3%A9_e_Jay-Z.jpg#/media/File:Beyonc%C3%A9_e_Jay-Z.jpg
Gary Barlow - "Gary barlow in concert body" by Matt Deegan - http://www.flickr.com/photos/msdi/7202339874/. Licensed under CC BY 2.0 via Wikimedia Commons - https://commons.wikimedia.org/wiki/File:Gary_barlow_in_concert_body.jpg#/media/File:Gary_barlow_in_concert_body.jpg
Victoria Beckham - "Victoria Beckham 2010" by LGEPR - Victoria Beckham. Licensed under CC BY 2.0 via Wikimedia Commons - https://commons.wikimedia.org/wiki/File:Victoria_Beckham_2010.jpg#/media/File:Victoria_Beckham_2010.jpg
Katy Perry - "Katy Perry California Dreams Tour 01" by Devon Christopher Adams from U.S. - 1106 Katy Perry 08. Licensed under CC BY-SA 3.0 via Wikimedia Commons - https://commons.wikimedia.org/wiki/File:Katy_Perry_California_Dreams_Tour_01.jpg#/media/File:Katy_Perry_California_Dreams_Tour_01.jpg
Eva Mendes - "Eva Mendès 66ème Festival de Venise (Mostra)" by nicolas genin - originally posted to Flickr as Eva Mendès 66ème Festival de Venise (Mostra). Licensed under CC BY-SA 2.0 via Wikimedia Commons - https://commons.wikimedia.org/wiki/File:Eva_Mend%C3%A8s_66%C3%A8me_Festival_de_Venise_(Mostra).jpg#/media/File:Eva_Mend%C3%A8s_66%C3%A8me_Festival_de_Venise_(Mostra).jpg
Jennifer Aniston - "Jennifer Aniston 2011" by Brett Cove at http://www.flickr.com/photos/brettdcove/ - Image e-mailed to the uploader by the author.. Via Wikimedia Commons - https://commons.wikimedia.org/wiki/File:Jennifer_Aniston_2011.jpg#/media/File:Jennifer_Aniston_2011.jpg