You can't beat a BBQ in the Summer – the smoky flavoured meat, the gathering of friends and family and those warm Summer evenings.
But what if you could have a long-lasting barbecue without spending hours searching for the perfect one, not to mention the expense of purchasing one from your local store?!
Well we've got some good news - with some basic DIY skills and a day set aside, you could build your own Brick BBQ at home, and be as creative as you like!
You will need:
A concrete slab if you don't already have a patio area
A barbecue cooking tray
Bricks
A spade
Cement, gravel, sandbags, a shovel and a wheelbarrow for mixing the cement
A hosepipe
A spirit level
Method:
Before you start building, you need to decide on a suitable area to build your DIY BBQ – if you don't have a patio then you will need to lay down a concrete base or some slabs. You should also clear all the grass and debris away from this location, and obviously make sure the area isn't near anything flammable, such as trees and fences.
Now for the nitty gritty – it's time to start dry-laying the bricks! Place the first level of bricks around the edge of the concrete, leaving a gap of a few centimetres between each brick. Use your barbecue cooking tray as a guide when deciding the internal spacing of the bricks,
Next, mix the cement in the wheelbarrow according to directions, so that it has the same consistency if mud. If the cement is too thick once mixed, don't worry - just add water until it reaches the desired consistency.
Lay down a generous amount of cement where the bricks will sit, and then lay the first level of bricks on top of it. Use your spade to remove any excess cement from around the first layer and check that the bricks are level using a spirit level. Repeat this process.
When you reach the higher layers of bricks (around the 8th layer), turn them sideways – these will serve as the barbecue grill support ledges. It's best to turn the bricks sideways in layers of twos so you have more space to remove the grills for cleaning and placing the food. For example, turn the 7th, 9th and 11th layers of bricks rather than the 7th, 8th and 9th – you can see how this is done on the image below.
To create a neater finish, hose down the barbecue with your hosepipe and then place the cooking trays on the ledges created by the jutted bricks. There you have your very own DIY BBQ!
As well as cleaning ovens, hobs, microwaves and aga cookers, Ovenclean also clean barbecues to a first class standard. Launched in 1994, Ovenclean is the UK's first and most successful oven cleaning specialist, currently providing services to thousands of satisfied households across the UK. Our smartly uniformed technicians are courteous, knowledgeable and carry out professional oven cleans.
Related posts
Tips to save your BBQ party when it rains
Barbecue related recipe of the week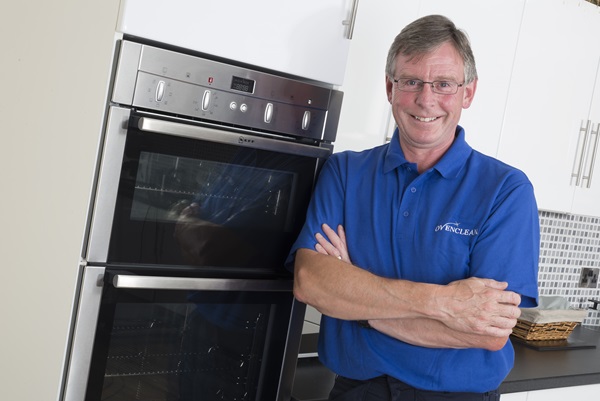 Ready to book your oven clean?
You're just a few short steps away from a sparkling oven!
Request a Free Quote!