It's #NationalCupcakeWeek, which gives you an excuse to bake and eat as many cupcakes as you like! Vanilla cup-cakes are so easy to make, yet taste delicious and are perfect for so many occasions.
You will need:
100g soft butter/margarine
100g caster sugar
2 free range eggs
2 teaspoons of vanilla extract
1 teaspoon of baking powder
Method:
1. Preheat the oven to 180 and then line a 12-hole muffin tin with paper cases
2. Beat the butter, sugar and baking powder together in a bowl for a few minutes, until it's all completely mixed in. Then slowly beat in the 2 eggs and pour in the vanilla extract.
3. Then beat the mixture with a whisk until the mixture is thick and creamy, and spoon the mixture into the 12 tins
4. Bake in the oven for 10-15 minutes until the cup-cakes are golden brown on top. Insert a skewer into the cakes and if they all come out clean, your cakes are ready.
5. Set the cakes aside to cool for 5-10 minutes, and then you are ready to add the icing!
Icing for cupcakes
You will need:
100 grams unsalted butter
200 grams icing sugar
1-2 tablespoons of milk
A few drops of food colouring
Method:
1. Chop the butter into several chunks and add to a bowl, then take the whisk and beat for a few minutes.
2. Sift about half of the icing sugar into the bowl of butter, and then whisk again until it's all mixed in.
3. Sift the rest of the icing sugar into the bowl until you have used it all, and then add the food colouring and whisk until it's soft.
4. Add one tablespoon of milk and the whisk until the mixture looks creamy and smooth. Just add another tablespoon if the mixture doesn't look right.
5. Spoon into a piping bag, then pipe the icing onto the cakes.
If you need your oven cleaning, call us today on 0800 840 7127 or request your free estimate here.
Related posts
Great British Bake-off's Cake Week – recipe of the month
What's the best oven cleaner in the UK?
How to clean a microwave
How to clean your oven trays
How much does an Ovenclean cost?
Image credits: http://www.browneyedbaker.com/wp-content/uploads/2010/10/vanilla-cupcakes-frosting.jpg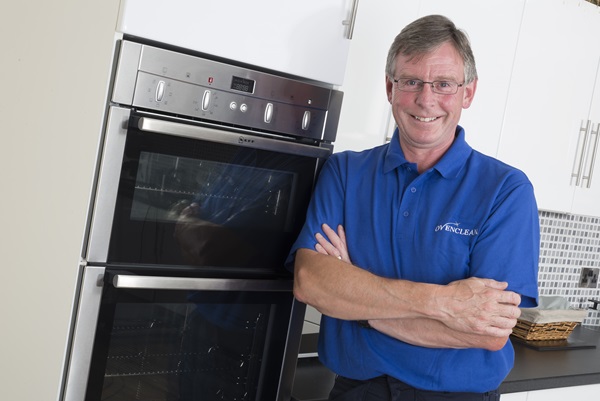 Ready to book your oven clean?
You're just a few short steps away from a sparkling oven!
Request a Free Quote!