Best Oven Gloves: Top Tips
Purchasing oven gloves is not the most exciting buy when it comes to kitchen products, however, it is essential. A good quality pair of oven gloves will save you suffering painful burns, blisters and scalds from the heat of the oven. It's not always easy deciding which pair of oven gloves to buy. So, we have put together a simple guide for you to follow that will help you choose the best pair of oven gloves for you.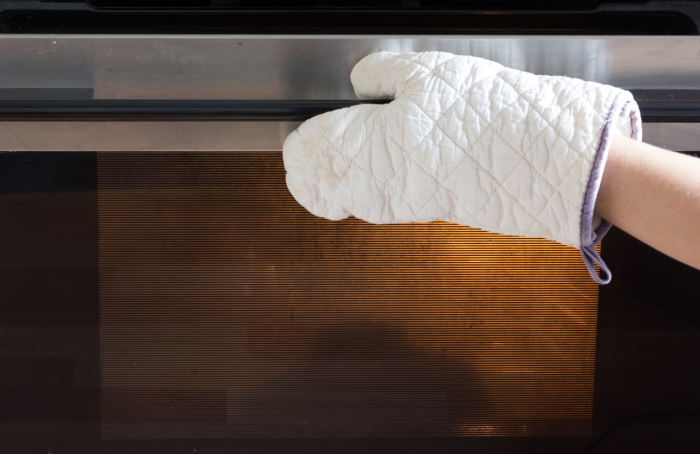 Oven Gloves on a Budget
If you want a quality oven glove but do not want to spend a fortune, look no further than the Premier Housewares Oven Mitts. These can be found on Amazon for under £10, making them a great choice for those looking for a cheaper pair. They are bright and cheery, adding a lovely pop of colour to your kitchen. You can hang them on the oven and throw them into the washing machine when they get dirty. Made from 100% cotton, these are a wonderful choice for those on a budget.
Oven Gloves with Fingers
For those looking to extend your budget a little and want something that is completely practical, this may be the glove for you. Just like a woolly glove, the Coolskin Heavy Oven Gauntlets have finger-made holes making it incredibly easy to remove dishes from the oven. They have a duplex knitted structure which provides extra protection from the heat of the oven. These gloves come in a variety of sizes to fit all. Slightly more expensive than others, these can be found on Amazon for approximately £27. This is a great investment for those looking to make their life a little easier.
Oven Gloves with the Greatest Heat Resistance
The Dualeco Oven Mitts may be the perfect option for those that are wanting extra heat protection. These gloves can withhold up to 300°C of scorching heat. The length of the cuff is much longer than a regular glove offering extra protection for your wrists. There are two extra pot holders and have attached silicone strips for extra grip. Unfortunately, you cannot put these gloves in the washing machine and will have to hand wash them. However, that is the small price to pay for gloves with such high heat protection. On Amazon, these can be purchased for around the £15 mark.
Oven Gloves with the Longest Durability
The MasterClass Oven Mitts are well known for their durability. What makes these gloves different from the rest is their inner cotton lining that has a soft quilted sheet in between the layers. This lining creates a strong insulating barrier that protects you against heat. Because of this extra layer, these gloves are extremely durable. They are a great option for those looking for a pair of long-lasting oven gloves. These gloves are selling on Amazon for £12, making them a great, affordable option.
Oven Gloves that Contain Silicone
If you would prefer a silicone option as opposed to the traditional cotton oven glove, the Dunelm Silicone Double Oven Glove may be a great choice for you. Not only do they come in lovely bright colours, but they also provide brilliant protection against heat. The heat-resistant silicone gives you a strong secure grip whilst keeping you safe from the heat. These kinds of gloves also have a cotton lining making them more comfortable. You can purchase these gloves for an affordable price of £12 directly from Dunelm.
Choosing the Best Type of Oven Glove 
There are a few different aspects to consider when choosing the perfect oven glove for you. Always ensure the oven glove has good heat protection, this is the most important thing to look for. Other things to take into consideration are the grip on the gloves so that you can use them confidently knowing your hands won't slip and slide.
Always check if the gloves are washable or hand wash only. If you are looking for a pair of gloves with the highest convenience, you may want to avoid hand-wash gloves as this can be time-consuming. You may want to choose gloves that have a high cuff length to ensure your wrists are protected as well as your hands. Test a few different designs out and see which feels the most comfortable and fitting for you.
Prices are accurate at the time of publication, November 2021.