How To Remove Grease Stains From Surfaces
Whether it's an oil stain on the wall or a grease mark on the cupboard, grease stains seem to get everywhere in the kitchen. So, below are some simple cleaning methods to help you remove stubborn grease stains from kitchen surfaces.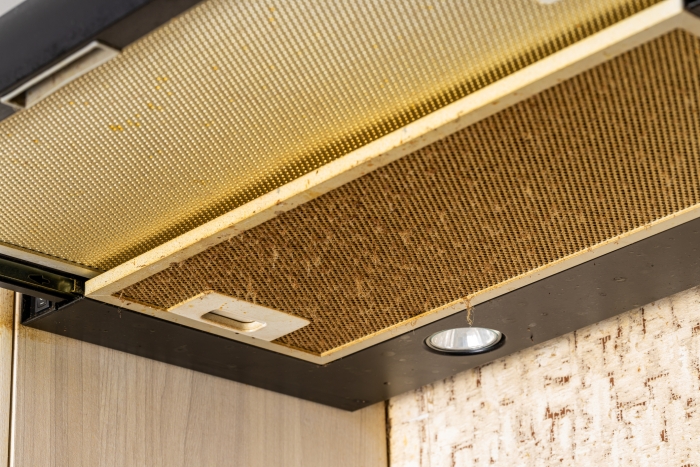 Removing Grease Stains from Wall Surfaces
It is very common for grease stains to build-up on kitchen walls, especially the wall directly above the stove. This is because grease splatters and spills from cooking are easily transferred to the walls. However, there is an easy trick to remove grease stains that will work on the majority of wall surfaces. All you need is washing up liquid and warm water.
Mix washing up liquid with warm water
Soak a soft sponge in the water and then squeeze to remove the excess water
Gently wipe the wall with the sponge to remove the grease stains
Once the stains have been removed, wipe the wall with a clean cloth and clean water, then allow to dry naturally.
Cleaning Between Cabinets and Cooker
For many it is normal to disinfect the worksurfaces after cooking. However, the area that is often forgotten about is the panel and cabinets in close range to the oven. This area gathers the same amount of grease and grime, yet is easier to ignore. But it's important to clean this area as over time the grease will build up and leave stubborn, sticky stains.
A great tip to remove the grease and grime from the side of the cooker, is to use a natural fresh ingredient. Lemons are perfect for this. It's a simple and easy technique and will leave everything fresh and clean.
Simply squeeze the juice of two lemons into an old clean spray bottle (if you don't have a spray bottle, cut the lemon in half and rub it directly onto the stain)
Spray the lemon juice directly onto the grease stain and allow this to soak for a few minutes
Once soaked, wipe off the lemon juice with a clean damp cloth and the stain should come away
Then wipe the area with a clean cloth or kitchen roll.
The lemon will cut directly through the grease and leave behind a lovely fresh citrus scent.
Cleaning Tile Floors
While cooking, it is really common for food grime and grease spills to stain the kitchen floor. However a tiled floor is one of the easier surfaces to clean. A great option to get your tile floors sparkling again would be to use baking soda and water! Two ingredients that most households tend to have. Baking soda is fantastic at cutting through stubborn grease.
Simply sprinkle baking soda or bicarbonate of soda on the tile floor
Then use a water-soaked cloth to scrub the tiles to remove the stains
Finally, rinse the tiles with clean water and allow them to dry. Then, sit back and watch how they sparkle as good as new.
How to Remove Grease from the Stove
It's common for households to give the hob a quick wipe over after use however, a deep clean of the stove should take place once every month to ensure its working efficiently. A deep clean of the hob is essential to remove all the hidden grease and grime. To complete the deep clean you will need to remove all removeable parts of the stove; this includes the burner tops and grates.
The best way to combat the grease on these elements is to place them in a bucket full of hot soapy water. Allow these elements to soak whilst you clean the top of the stove.
Thoroughly wipe down the stove using washing up liquid and hot water
Using a sponge and a bit of elbow grease you will be able to scrub those nasty grease stains away
You may also want to try using a toothbrush to get into those tricky nooks and crannies
Return to the soaking elements in the bucket and give them a good scrub, then rinse and leave them to dry naturally.
If your extractor fan is also covered in grease, read our fan filter cleaning guide here.
Professional Grease-Removing Oven Clean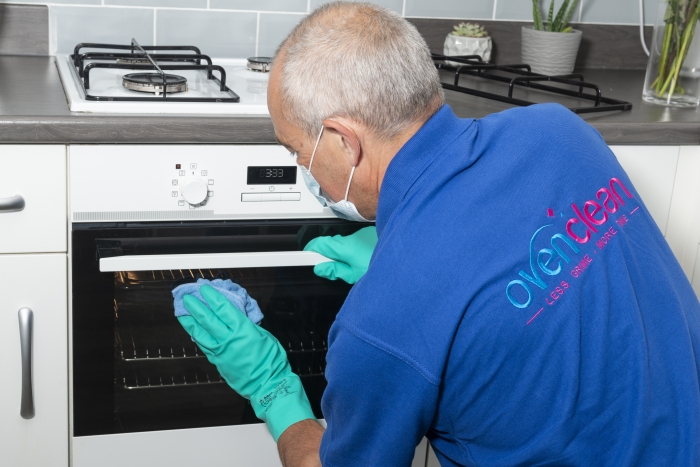 Removing grease and grime from your oven can be a very time consuming and sometimes strenuous job. To save yourself the hassle, you could always call a professional cleaning service, like Ovenclean. Here at Ovenclean we have professional oven cleaners that use specialist tools to get your oven sparkling clean. Saving you time and stress. Plus, all Ovenclean specialists use a unique no-added caustic system. This means there are no fumes, making it safe for use around children and pets.
After you have finished with the grease clean up you can relax knowing everything is sparkling clean again. To prevent build ups of grease stains it's a good idea to wipe your kitchen surfaces every day and eliminate the grease as quickly as you can to stop it staining. You can even invest in a splatter guard if you are frying something particular greasy.